Airlines chip in
Now Mother's Homes were coming up every where on the globe proving how the world needed help. Mother had to travel a lot. Train journey was time consuming. Air travel was very costly.
The frugal Mother fretted on the expenses incurred on her air travel. It was a big drain.
So, she wrote to the Indian governement to allow her and her assistant Sister to travel free on the national carrier, Air India. When officials dithered she offered to serve as an Air Hostess to earn her flight. That bit the conscience of the authorities and they allowed her free travel on all Air India flights.

This gave Air India an enormous publicity advantage which forced other airlines to follow suit. Now Mother and other special Sisters could fly free. Whenever Mission of Charity Sisters travelled on the planes the captains made it a point to hand over packed packages of food left over in the flight for the use in the Charity Homes.
Later, some prominent hotels also began to deliver left over foods to Mother's Homes.
Soon Missionaries of Charity had 600 Homes all over the globe being served by 4000 committed Sisters.
In Ethiopia
In 1973, North African country, Ethiopia suffered from an acute famine. Large numbers of people were starving to death. Mother wanted to open relief centres there to take care of the sick and the dying.
But the problem was the country's tyrant king, Haile Selassie. He was a religious fanatic. Mother appealed to his daughter. On her intervention the king's representative met her. They suspected that relief work could be a ruise to convert their people into Christianity.
Mother assured, "Don't worry. Our aim is to just help starving, sick and suffering people. We won't ask for anything from you. We bring our own medicines and trained Sisters."
The king allowed her to started relief camp.
A year later revolutionaries seized power. The royal family was put in prison. Mother met the king in his cell and prayed for him. Upon her pleas revolutionaries spared the lives of king's family members. The king himself died in prison.
In Gaza
Israel and Egypt went to war in 1973. Gaza strip was worst affected. Thousands of Palestinians had become homeless refugees. Mother Teresa sent a team of her Sisters to the war zone. They pitched their tent by the side of refugee camps and started serving the sick refugees and wounded soldiers.
Some Israeli soldiers stormed into their tent suspecting the saree clad Sisters to be enemy spies in disguise.
But the mention of Mother Teresa's name made them apologize and withdraw.
Iraq war
It became evident that American President George Bush (Senior) was hell bent on making war against Iraq in retaliation for Iraq's occupation of Kuwait.
Iraq's President Saddam Hussain was also making belligerent and threatening statements talking of fighting the 'Mother of all wars'.
A world war appeared to be breaking out.
Mother Teresa appealed to both the Presidents to make peace instead of dragging the world into the horrors of war. She wrote letters to them detailing the cost of war in terms of human tragedies.
All the appeals fell on deaf ears.
The war broke out and it brought untold suffering on the people of Iraq.
In post war period the Health Minister of Iraq requested Mother Teresa to help their war ravaged country.
Mother Teresa and her Sisters went to Iraq and got busy in taking care of sick, crippled and the orphans.
Honour, awards & accolades
Mother Teresa won so many laurels, awards, prizes and honours that it would have required a museum to display them had she preserved all of them.
She never asked for them. They were forced on her. Mother called award ceremonies a humiliation. But she went through all those humiliations as the Awards and Honours carried cash benefits. And Mother badly needed cash to finance her never-ending services to the suffering people.
The following is the list of the major Awards, Honours and Titles bestowed on Mother Teresa :
1962 — Rayman Magasaysay Award
1962 — Padma Shri—India
1971 — Pope John Tricad Peace Prize
1971 — Kennedy International Award—Washington
1971 — 'Doctor of Human Letters' degree by the Catholic University of USA
1972 — Jawahar Lal Nehru Award—India
1973 — Foundation Prize for Progress in Religion—London
1975 — Special Guest in International year of Women—Mexico
1975 — Picture on C. Medal—International F.A.O.
1975 — Honorary Degree on 'Deshikottam'—Vishwa Bharati University.
1977 — Good Samaritan Award—NY
1979 — Nobel Prize for Peace
1980 — Bharat Ratna—India
1985 — Medal of Freedom—USA
Posthumous recognition
2004 — Beatification by Catholic Church
Heavenward progression
The eighties decade of the 20th century brought physical niggles and infirmities to Mother Teresa. Her frail frame was too weak to resist diseases, absorb accidents and incapacitating effects of the old age.
More then forty years of relentless work and neglect of own physical care for others was taking its toll.
In 1989, Mother suffered heart stroke. A pacemaker was put in. Since then, her health kept failing.
In 1991, pneumonia struck her in Tijuana city of Mexico. In 1993, she slipped and broke three ribs in Rome. A failure of left ventricle of her heart followed.
She was too ill to carry on. Mother resigned from the presidentship of Missionaries of Charity on 13th March, 1997.
Mother sensed that her time to meet the Creator was fast approaching.
5th September, 1997 was to be that dreaded black day.
Mother was praying with several Sisters in her small room.
Suddenly, there was darkness. The light had gone. Mother complained, "I can't breathe—can't breathe…"
Her personal doctor was summoned at once.
The doctor put Mother Teresa on life support system. Mother's body was ravaged by weakness. And the worst of all she had lost the will to live. There was nothing that anyone could do.
She stopped breathing at 9.30 p.m.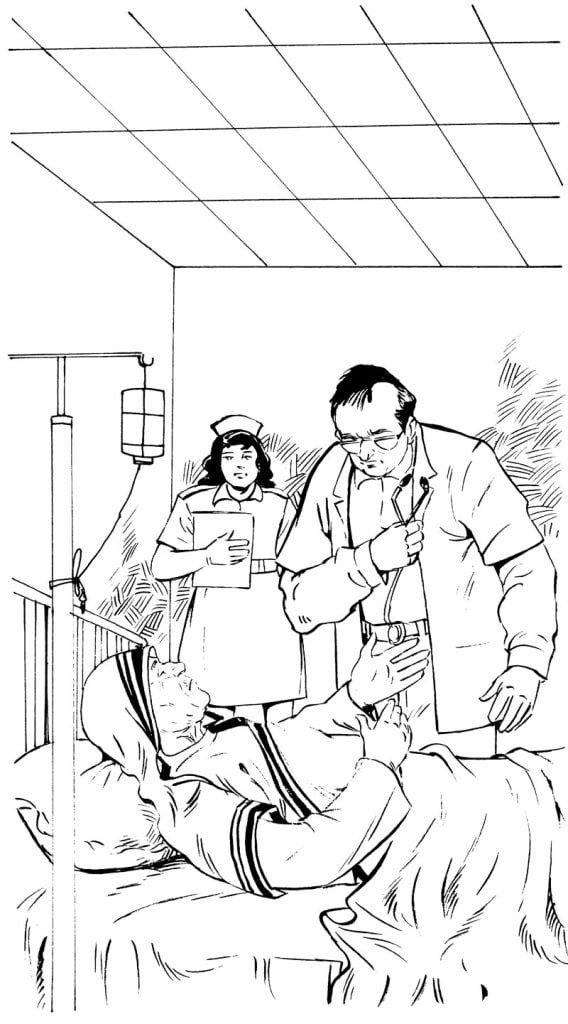 Her body was kept on view for seven days to enable all people and dignitaries to pay their homages.
On 13th September, 1997 Mother Teresa was buried in Mother house with full state honours.
After Mahatma Gandhi, she was the second independent Indian citizen to be accorded that honour at national level.
Mother Teresa is no more with us. But her spirit of service, love and compassion will always live on as a legend and the continued services by her Homes to the poorest will remind us of her.